Electronic Projects
Specifications
- PC Connection RS-232 or USB
- Temperature range: -30 to + 84 Celsius, -22 to +183 Fahrenheit
- Humidity range: 0-100%
- Power 110V (Power supply included)
- 2 Input closing contact for data logger
Temperature controller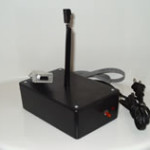 With this controller you can monitor a room temperature and humidity (i.e. Server room, Antique storage). The controller uses a Precon temperature/humidity sensor. The device allows you to have a big display with temperature and humidity on the screen and to set min/max alerts that will turn a buzzer on (included). A log file is available with graphs of temperature and humidity.
Time buzzer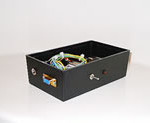 The timer buzzer allows you to have two relay contacts to pilot anything you wish (i.e. Phone paging system) at certain times. There are 10 different timers (expandable) you can set with a relay selection (relay 1 or relay 2) as long as duration and enable/disable feature.
——————————————————————————–
Specifications
- PC Connection RS-232 or USB
- 2 relays contact 110V – 1A
- Power 110V (Power supply included)
——————————————————————————–
No picture available
- Relay 12V – 30A
- Display LCD 2×162
- Power 12V
Specifications
Regatta starter
This is a device that will facilitate the start of a regatta with a specific timer program that counts down in three different steps and pilots a relay for a "high power" signal. Warning (1 min), P-Flag (3 min), Start (1 min) messages displayed on LCD. With Start/Stop/Horn buttons.
——————————————————————————–
- Interface with 4 infrared inputs
- Power 110/220 (slot track)
Specifications
The idea I had was to build a car race simulator. So I engineered an interface to time slot cars from a 4-lane track to the computer. I then developed a software plugging in as many F1 rules I could with the result of having a real F1 simulator in a slot car race. I still think it is a "cool" idea